張祥光 教授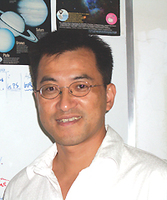 張祥光 教授
德國波昻大學天文學博士(1994)
研究室電話: +886-3-574-2952
實驗室電話: +886-3-574-2952
傳真:+886-3-572-3052
電郵: hkchang @ mx.nthu.edu.tw
個人網頁: http://w3.phys.nthu.edu.tw/~hkchang/
---
學經歷與榮譽
校長顧問 (2018/8-2022/1)

總務長(

2014/2-

2015/11)

副教務長(2011/8-2014/1)

中華民國天文學會理事長(2008-2011)

天文研究所所長(2008-2011)

物理系系主任(2008-2011)
研究重點
福衛八號第二枚衛星科學酬載 -- 伽馬射線瞬變事件監測儀 (Gamma-ray Transients Monitor, GTM)
Gamma Ray Bursts (GRBs) were discovered more than half a century ago. Their nature remained highly mysterious since then until the detection of their multi-wavelength afterglows and host galaxies in late 90's, which eventually allowed to measure the redshift of GRBs and to establish their cosmological distance scale. These advances were based on extensive efforts of GRB monitoring and follow-up observations. The Gamma-ray Transients Monitor (GTM) on board Formosat-8B (FS-8B) will join this effort to monitor GBRs in the energy band from 50 keV to 2 MeV. GTM consists of two identical modules located on two opposite sides of FS-8B. Each module has four sensor units facing different directions to cover half of the sky. The two modules will then cover the whole sky, including the direction occulted by the Earth. Each sensor unit is composed of a GAGG scintillator array (50 mm × 50 mm × 8 mm) to be readout by SiPM with 16 pixel-channels. GTM will enhance the sky coverage of current missions in the world and provide independent event localization measurement. It is expected to detect about 50 GRBs per year. GTM is Taiwan's 1st space astronomy instrument. The GTM collaboration includes researchers from NTHU/IoA, NTHU/PME and AS/IoP. GTM is expected to launch in 2026.
康普頓成像光譜儀 (Compton Spectrometer and Imager, COSI) 

The Compton Spectrometer and Imager (COSI) is a 0.2–5MeV Compton telescope capable of imaging, spectroscopy, and polarimetry of astrophysical sources. COSI science goals include studies of 0.511 MeV emission from antimatter annihilation in the Galaxy, mapping radioactive elements from nucleosynthesis, MeV polarization measurements of emissions from compact object systems, and detecting and localizing multimessenger sources. COSI is a UC Berkeley-led NASA Small Explorer (SMEX) satellite mission. NTHU has been participating in this project since 2006. COSI is expected to launch in 2026



中子星輻射相關研究 (Emissions from Neutron Stars)
We investigate high-energy emissions from pulsars and magnetars, in particular in X-rays, with data taken by various space missions. The aim is to understand how a neutron star, with its magnetosphere, manages to emit these emissions.
黑洞吸積輻射相關研究 (Emissions from Black-Hole Accretion)
We investigate emissions from black-hole accretion systems, such as black-hole X-ray binaries (BHXRB) and Active Galactic Nuclei (AGN), with multi-wavelength data. The aim is to understand physics involved in black hole accretion.
代表著作
Hsiang-Kuang Chang, Chih-Hsun Lin, Che-Chih Tsao, Che-Yen Chu, Shun-Chia Yang, Chien-You Huang, Chao-Hsi Wang, Tze-Hsiang Su, Yun-Hsin Chung, Yung-Wei Chang, Zi-Jun Gong, Jr-Yue Hsiang, Keng-Li Lai, Tsu-Hsuan Lin, Chia-Yu Lu, Chien-Ying Yang, The Gamma-ray Transients Monitor (GTM) on board Formosat-8B and its GRB detection efficiency, Advances in Space Research, 69, 1249 (2022)
H.-K. Chang, C.-Y. Liu, K.-T. Chen, Search for serendipitous trans-Neptunian object occultation in X-rays, Monthly Notices of the Royal Astronomical Society, 429, 1626 (2013)
H.-K. Chang, S.-K. King, J.-S. Liang, P.-S. Wu, L. C.-C. Lin, J.-L. Chiu, Occultation of X-rays from Scorpius X-1 by Small Trans-Neptunian Objects, Nature, 442, 660 (2006)
more.....